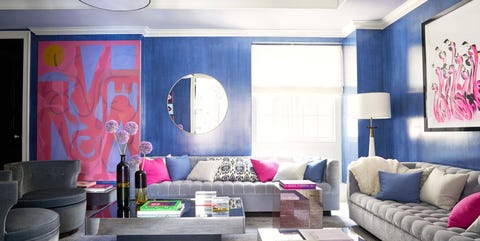 House Beautiful has some great ways to jazz up your living space with colorful walls. Your living room is your go-to-spot, so why not make it your place to look forward to relaxing in? Grab a paint brush. House Beautiful has every color idea you should consider.
This jewel-toned color makes a room feel like a Caribbean oasis. Add potted plants and we're completely swooning.
A crisp, matte white is totally timeless. Sherwin Williams Pure White is there for you when you just can't with trends anymore.
Does the thought of painting your living room yellow scare you to your very core? Just choose an accent, like a door or a single wall, instead.
This jewel-toned blue is the color of wanderlust right in your own home. It'll make you feel like you're on vacation, even if the closest you're getting to an island escape is your laptop's screensaver (sigh).
Pink doesn't have to be overtly girly. Add Southwestern elements like textiles, patterns, and wood accents to make the pastel feel a little more funky and bohemian.
Even though it's subtle, the added texture you get from wood paneling helps break up an all-gray wall. A bold, colorful rug adds even more dimension.
Ebony
A new house on Alabama's Lake Martin takes on the look of an old cabin with soft, washed-out colors and ebony wood walls. Designer Susan Ferrier chose a chandelier by Phillips Metal Works to make a lofty living room feel more intimate.
In the sunroom of a Connecticut ranch house, pale blue walls give the room a calming vibe. White ceilings help break up the blue and make the room feel lighter and airier.
Turn to nature and bring gorgeous shades of sage indoors. Green-infused grays will feel like a breath of fresh air.