If you are a resident of Black Mountain, then you likely heard of the horrific accident that occurred in April involving Montreat College Track and Field Coach, Britten Olinger. Coach Britten is a positive fixture of our community, not only being involved as a collegiate coach but also nurturing the youth track programs at Owen High School and other Eastside schools and organizations. Coach Britten suffered extreme injuries from the car crash, and is still paralyzed from the chest down.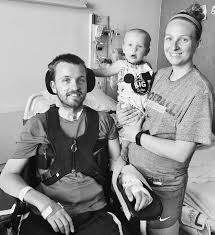 The great folks at Pisgah Brewing are banding together with some of our neighbors and musicians to host a special evening and raise funds for the Olinger Family and the many medical bills that have become associated with Coach Britten's recovery and care. Special musical sets from folks like Artimus Pyle, The Howlin' Brothers and more!
There is a suggested donation of $5 at the door to help the Olinger family and music will begin at 8pm. $1 from every Pisgah pint will be donated towards the Olinger Family and their health costs towards Coach Britten's recovery all day on Friday, June 9th. Come support our local community!
We know this community can rally together, we hope to see you all there!
Please visit #Brittenstrong to read more on this family's story or to make donations.