HAPPY HOLIDAYS!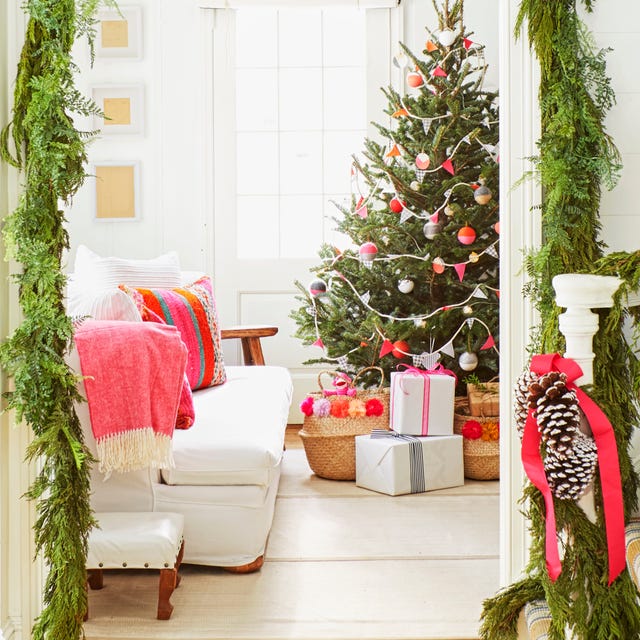 The holiday season is one of the only occasions that welcomes glitter, plaid, and tinkle lighs with open arms. Good Housekeeing says if you're planning to decorate your house for the holiday, you might as well go all out with well-trimmed trees, elaborate centerpieces and accessorized mantels. Instead of sticking with the classic red and green, refresh your kitchen, living room, or other areas in your house for the season by taking inspiration straight from these Christmas decoration ideas, ranging in style, price, and DIY skills.
The Christmas tree, while a spectacle in itself, is just the start. Use stockings, wreathes, and garland (along with other festive finds!) to fill the inside and outside of your home with holiday cheer. Along the way, you may even get the opportunity to revisit your favorite decorations of Christmas' past like Grandma's vintage Santa figurines or the glittering tinsel trees you grew up with. The end result? These jolly decorating ideas will make every inch of your home will look and feel as festive as Whoville.
If you're not feeling traditional chocolate or toy advent calendars, make your own with paper tags and on-theme trinkets. That way, the whole family can join in on the fun.
Your kids won't have to worry about any rogue pine needles with this felt holly leaf garland. Just weave it between the bedposts and bed frame to ensure that it stays in place all night long.
Skip the traditional red and green, and opt for candy-colored ornaments instead. Add some candy canes and peppermint garland for good measure.
When you have too many gifts underneath the treat, it's time to get creative. Enter this gift-covered bookshelf, complete with matching wrapping paper and black, white, and silver touches.
Just because you don't live in a log cabin doesn't mean you can't play pretend. Bust out all of your antique shop finds — wooden boxes, snow-covered tabletop trees, and vintage sleds — and use them to decorate any room in the house.
Upgrade a plain coir mat with graphic white trees. While you're at it, add a few stripes of red paint to a metal pail.
Your party guests may never see these decorations, but you will (and that's what counts, right?). Add shades of blue and green to warm up your favorite space.
Swap in folded tea towels for placemats and napkins. They work just as well — and they're often cheaper! Colorful tumblers can step in for vases, too.
The inside of your home is packed with the season's magic, from the well-dressed Christmas tree to the bustling fireplace. For even more magic, add galvanized planters with mini trees — real or fake — outside.
You have pine garlands, wreaths, and well, basically everything else — so why not sprinkle in another type of evergreen?